Network Marketing Success Secrets:
7 Power Principles Top Leaders Live By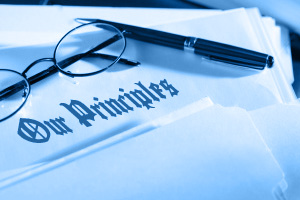 After a few years in the Network Marketing space I've noticed a trend in what makes the top leaders stand out. It's not that they do things differently, it's that they do different things. We're going to dive into the top Network Marketing Success Secrets that are practiced the most.
If It Is To Be Its Up To Me – In business you learn that things can go bad quick. And people are also quick to point fingers. Leaders hold themselves accountable for their actions by taking full responsibility. Weather the situation was a total epic fail or a raging success with awesome-sauce on top, leaders understand that taking responsibility is the most empowering thing they can do. By taking ownership of their actions, they delete the victim mentality.
Master Your Craft – All leaders start as students first. No one skips this step. They learned the basics and after tireless hours, they became masters at what they do. That might be master prospector, master closer, and/or salesman. Leaders understand that they can explode their business with a marketing focus in one area. This Network Marketing Success secret allows them to become a marketplace hero to their target market and be seen as a problem solver.
Pay The Cost To Be The Boss – Want to not only be the master of your craft but also your domain then there is a big price to pay. Leaders understand the price of success is hard but completely worth every step. The ability to have a level of freedom that simply allows for options means the world to leaders. That's why day after day they "put-in-work" to make their business thrive.
Have The End In Mind- Nothing can stop a person who has a vision. A vision will make you do what you don't feel like doing. It will make you take the road less traveled. The only way to understand WHY you are doing your non-traditional business is to know where you are going. This is what makes difference when getting started. Leaders know that each day brings ups and downs but its because of their vision its worth going through.
Write The Vision And Make It Plain – There are tons of studies out there that prove that those who write down their goals are more likely to achieve them. This Network Marketing Success secret is widely used by not only industry leaders but also top performers in other industries. Mary Kay Ash founder of Mary Kay attributed her success to writing down her goals each day. Hand write your goals and keep them in front of you daily. Weather that's your bathroom mirror or your screen saver on your phone, your mind will go to work if you keep your goals around you.
Always Play To Win – Too many people in life play not to lose. Not only is that mentality not self-serving but it also is self-sabotaging. Top leaders understand that if they are going to play, winning is the main objective. And in playing the game there is a process, a journey that will make the game and ultimately the WIN that much sweeter. So they are in it for the long haul. Even if they are behind on the scoreboard, Leaders still give it their best with full intentions of winning. Stick and stay until you get your pay.
Take Important Action – I'm sure you can agree that sometimes "taking action" is not the sexiest thing in your business. Implementing a new strategy or tactic, at times can be the hardest part in your success journey. But like Brain Tracey says, Eat That Frog! Do the hard thing first. As an entrepreneur you always have tons of pressing issues on your plate but what must always take precedence is whats important not whats urgent. It may seem like I miss-wrote but urgent matters are often subjective dealing with others. Typically what you don't want to do or what you've delayed doing is what is important right now. And that's what you should take action on right now.
I'm A Business….Man!
We can all take a lesson from Music Mogual, Jay Z. Although he's known for his lyrical smash hits but he is a fierce business man. One reason for that is that he knows that he himself is a business. And if you haven't noticed it yet your Network Marketing leaders see themselves as a business. Once you realize that what makes you different in the marketplace is….YOU, then this makes for simple branding and positioning. Leaders make themselves more attractive because they know who they are and how they can help people.
It goes without saying that you should treat your business like a business and treat your engagement in your business like business. With big goals and visions you have no time for a hobbyist mentality. Apply these Network Marketing Success Secrets today and you will get powerful results.